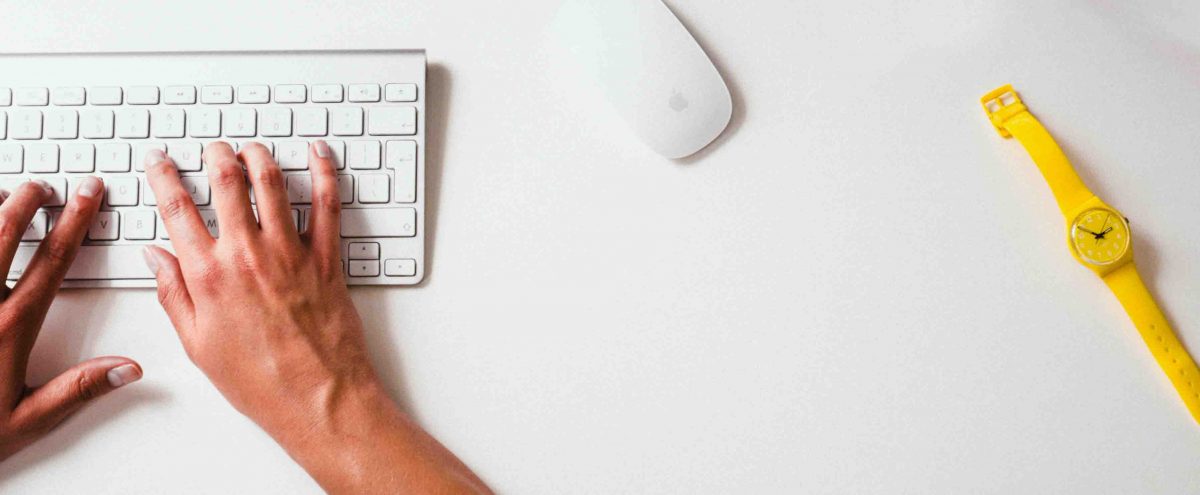 What is digital transformation? Everything you need to know about how technology is reshaping business
By Mark Samuels
What is digital transformation?
Digital transformation involves using digital technologies to remake a process to become more efficient or effective. The idea is to use technology not just to replicate an existing service in a digital form, but to use technology to transform that service into something significantly better.
Digital transformation can involve many different technologies but the hottest topics right now are cloud computing, the Internet of Things, big data, and artificial intelligence.
But it's not just about the technology: changing business processes and corporate culture are just as vital to the success of these initiatives. Digital transformation projects are often a way for large and established organisations to compete with nimbler, digital-only rivals. These projects tend to be large in scope and ambition, but are not without risks.
How important is digital transformation?
In a survey of 460 execs by IT analyst Gartner, 62 percent said they had a management initiative or transformation program to make their business more digital. Just over half (54%) said that their digital business objective is transformational, while 46% said the objective of the initiative is optimization.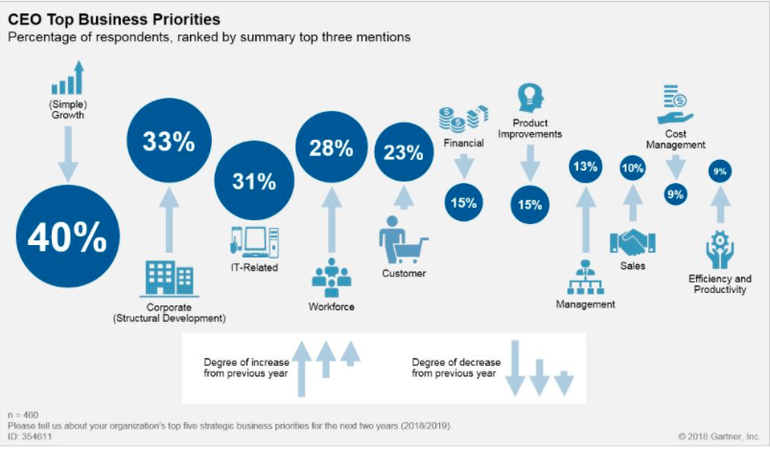 According to a recent survey conducted by Grant Thornton, more than two-thirds (69%) of CFOs and senior financial executives are planning to increase their investment in technologies that speed business change, and four in ten said they plan an increase of more than 10 percent in the next 12 months. Just under half said their companies' digital-transformation investments are meant to help them overtake their competition through differentiation.Yet it's not all good news. Forrester recently reported that digital transformation efforts are running into roadblocks amid confusion, delusion, and resistance to change.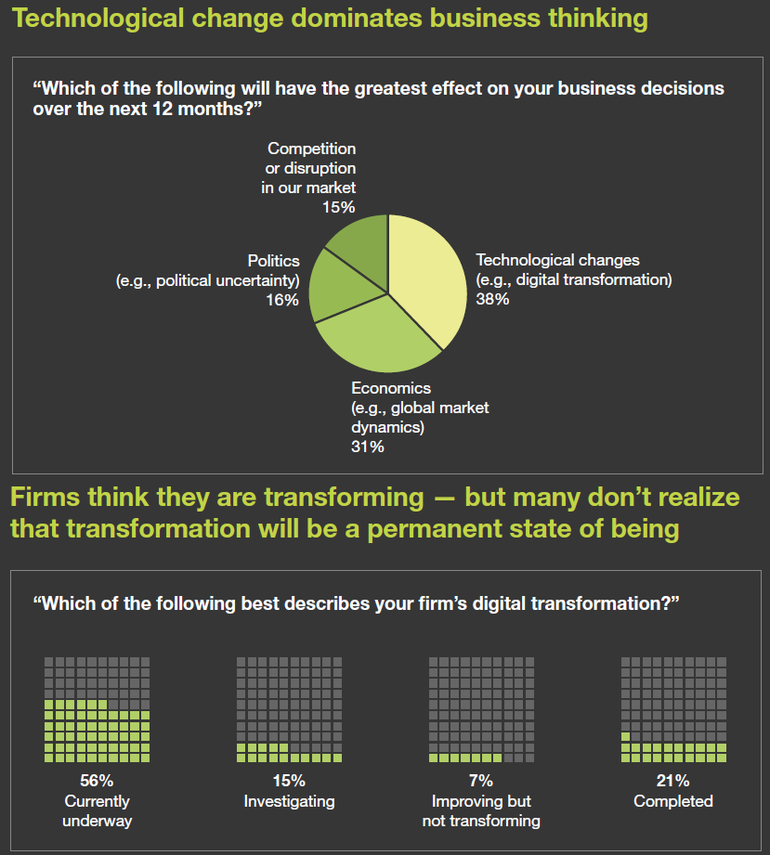 Criticisms of digital transformation
To critics, digital transformation simply offers tech vendors another opportunity to rebrand their offerings: it's not uncommon to see systems and services being sold as the answer for digital transformation. Tech workers also express cynicism about grand talk of digital. No technology worker spends their working day digitally transforming, rather than coding, programming, and developing. And the phrase can be applied so broadly that it becomes effectively meaningless.
Why does digital transformation matter?
Such disillusionment might suggest there is little to be gained by focusing on digital transformation. But beneath the buzzwords there lies a crucial concept: digitalisation is helping smart entrepreneurs and pioneering executives to change the established economic order — and the effects are everywhere.
Only half of enterprises see startups as a serious threat, according to research from Dell EMC, and almost one in ten do not believe they have any challengers in their market. In fact, seven per cent of executives say they are not concerned about the threat of digital disruption whatsoever. In these cases, a serious wake-up call is required.
What does digital transformation look like?
Technologies from big data to cloud and from the IoT to AI are helping entrepreneurs to develop new business models and disrupt the established way of running operations.
So, call it what you want, but digital transformation is very much a thing and it is something that many executives in traditional firms are still struggling to get their heads around. While startups thrive though their new ways of working, their innovative use of data, and their integrated approach to advanced technologies, too many traditional organizations both in the private and public sectors are still stuck in legacy mode.
However, quickening the speed of development is tough. Digital is often viewed as a dark art that only a few experts understand. In too many cases, business leaders fill this knowledge gap with highly-paid consultants who deliver the hype of digital transformation instead of measurable business value. Case studies of projects that deliver true digitalisation are thinner on the ground than the experts have you believe.
What is included in a digital transformation project?
A genuine digital transformation project involves fundamentally rethinking business models and processes, rather than tinkering with or enhancing traditional methods. Digitalisation is not, as is commonly suggested, simply the implementation of more technology systems and services. Digital transformation should create something new: that might be an improvement to customer experience (for example by allowing customer self-service), streamlining the supply chain, or using insights from data to offer new products.
What does digital transformation mean for legacy systems?
This older kit can be an obstacle to change. Almost half (44 percent) of CIOs believe complex legacy technology is the chief barrier to digital transformation, according to the Logicalis Global CIO Survey, with 51 percent saying they plan to adapt or replace existing infrastructure as a means of accelerating digital transformation.
It is encouraging IT leaders to recognise the replacement of legacy systems with modern, cloud-based systems is not in itself an objective. This process of replatforming is the foundation for business change, rather than the actual process of digital transformation.
Who is responsible for digital transformation projects?
CIOs are far from the only executives with a role in digital transformation management, and the pressure for change has led to the rise of new C-suite specialists, such as chief digital officers (CDOs). Analyst firms fanned the flames by suggesting the appointment of CDOs could hasten the demise of the traditional IT leadership role. Gartner originally claimed a quarter of businesses would have a digital chief by 2015, and IDC said 60 percent of CIOs would be replaced by CDOs by 2020.
While line-of-business employees are good at buying discrete digital technologies, CIOs have the experience of integrating systems and services. In most cases, appointed CDOs work with their CIO colleagues to exploit advanced technology on behalf of the business. In fact, CIOs have used their experience to maintain a tight grip of digital transformation. Gartner says more than half (55 per cent) of the 300 top-performing CIOs in global businesses also hold the CDO role. Digital transformation affects the entire business and CIOs help ensure technological elements are understand, bedded down and useful.
What's the difference between digital transformation and business transformation?
Business transformation is accelerated by and built upon digital technologies. It's a sentiment that chimes with Phil Lewis, director of digital experience at retailer Boden, who says digital, rather than being a thing you do, is a way of working.
"I think that's the big difference. I think digital transformation within a business is not about putting in technology that does digital, it's more about the way that you work with those tools and work across teams," he says.
Digitalization, therefore, is a way to help the business transform. Such is the potential power of disruption that debates about digital or business transformation are redundant. "There isn't an IT or a business strategy; instead, there's a single digital business strategy," confirms Lisa Heneghan, global head of KPMG's CIO advisory practice.
When does digital transformation stop?
It doesn't. Many people make the mistake of thinking of digital transformation as a discrete project.Digital transformation remains a slippery concept that involves the delivery of value to the business and its customers in new — and perhaps unexpected — ways.
While the demand for change will keep on coming, 21 percent of business and technology decision makers believe their digital transformation efforts are already complete. Such executives are deluded, as almost-constant strategic iteration is the new norm. Digital-led change, confirms Gideon Kay at Dentsu Aegis, is likely to go on forever.
How is data transformation evolving as a concept?
Just as digital transformation constantly changes, so do its constituent elements. Right now, most business transformation activities involve the innovative use of data, whether that involves analytics, IoT, or machine learning. In many ways, as digital transformation has evolved it has become more about data-led change than anything else.
So, the form of digital transformation continues to evolve, meaning the process of defining digitalisation remains complex and contested. The one thing we can be sure of is that transformation — in whatever form it takes is here to stay, which means CIOs and the rest of the senior team must build a sustainable business strategy.
Source :
https://www.zdnet.com/article/what-is-digital-transformation-everything-you-need-to-know-about-how-technology-is-reshaping/